We explore how the impact of Covid-19 should trigger a revolutionary change in how we approach how we live within our urban centres moving forward.
Change, whether good or bad, is transformational. In a post pandemic world, we are expected to face a great deal of change in terms of how we all live and work within our urban centres. Many of these changes have already begun. The prime example being the large global shift towards remote work and working from home.
A time of considerable change is also an important opportunity to reflect and assess the current world order, and to understand better what works, and what doesn't, when it comes to building and improving flexible, dynamic, and more equal urban environments.
The importance of outdoor spaces
If the pandemic has taught us anything, it is the importance of outdoor spaces. For much of the past year, the only safe place to exercise, socialise and spend any time, has been outdoors. For many urban dwellers this has led to a newfound appreciation for the green spaces within their city, whether they are local neighbourhood ones, or larger scale city parks. Preserving and expanding these spaces is critical to building better future cities, pandemic or not.
Hand in hand with this appreciation for the green around us, is a need to prioritize sustainability. The more time spent in nature, the more we understand the need for greater environmental protection, and the more we appreciate the things that ensure our continued health- reduced air pollution, as one example. The more we connect with the outdoors, the more we appreciate the role we can all play in protecting it.
Singapore: a green city
One example of a city embracing its need to be green, is the island state of Singapore. This young nation state, where over 80% of the population lives in urban public housing, has long understood the importance of green spaces for its residents. It is also taking an approach to developing much needed new housing, that prioritizes incorporating natural spaces within the development.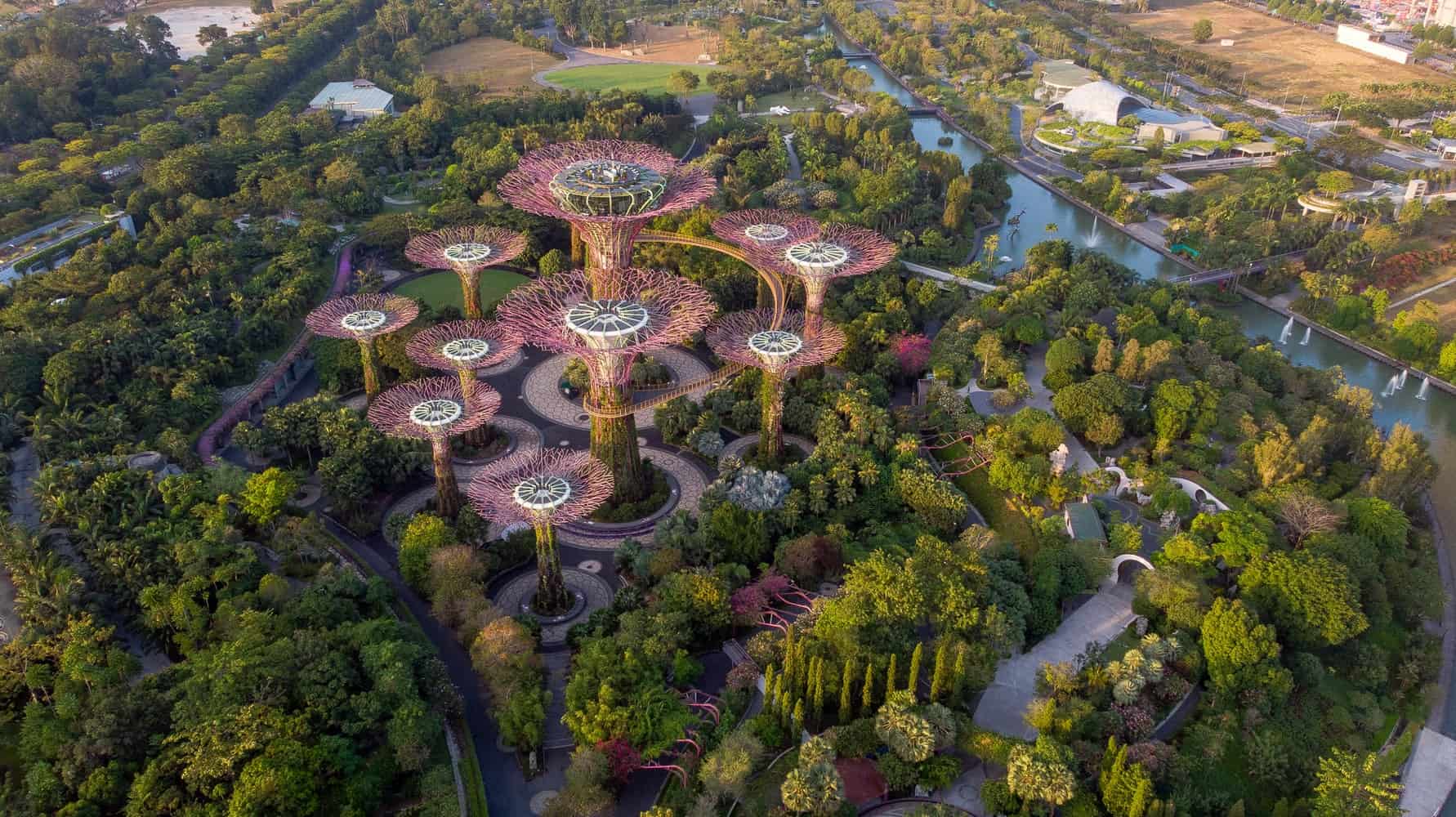 One example of a city embracing its need to be green, is the island state of Singapore. Image by Sergio Sala.
The new Singaporean eco-town of Tengah will provide 42,000 new homes in a housing development model that has sustainability at its core. Its residential areas will include automated rubbish collection, and a town centre which will be designated car free. This new 'forest town' will also include an ecological corridor through its centre. Not only will this be beneficial to the district's new residents in terms of a connection to nature, it will also provide a safe passage for wildlife, with a preserved nature reserve on one side of it. The area is also expected to include plenty of communal gardens, and parks.
New urban development in Singapore is showing that a demand for new housing, doesn't have to come at the cost of environmental devastation, and that an approach which combines sustainability and quality living, is achievable- even in one of the most densely populated cities in the world. Urban life does not exist in its own bubble, separate from the natural world. Urban centres are as dependent on a healthy environment and planet, as any other community. Understanding this looks set to influence and guide urban planners, residents, and governments, in the years ahead.
A creative approach
Even in cities, with large amounts of green space already, such as London, 40% of the city is classed as green space, can take steps to improve the number of greenery within the city. This can include rooftop gardens, the planting of more trees around the city, and a commitment to urban planning that recognizes the importance of greenery in the lives of urban residents.
This means taking a creative approach to combining the urban and natural worlds. Take the example of the urban rooftop allotment, started and managed by eco-Chef Arthur Potts Dawson from the Acorn House restaurant in North London. Using urban spaces to grow food sources is an approach to sustainability that is growing in popularity around the world, and one which is forcing many of us to reassess our relationship with the city and nature, in a positive way.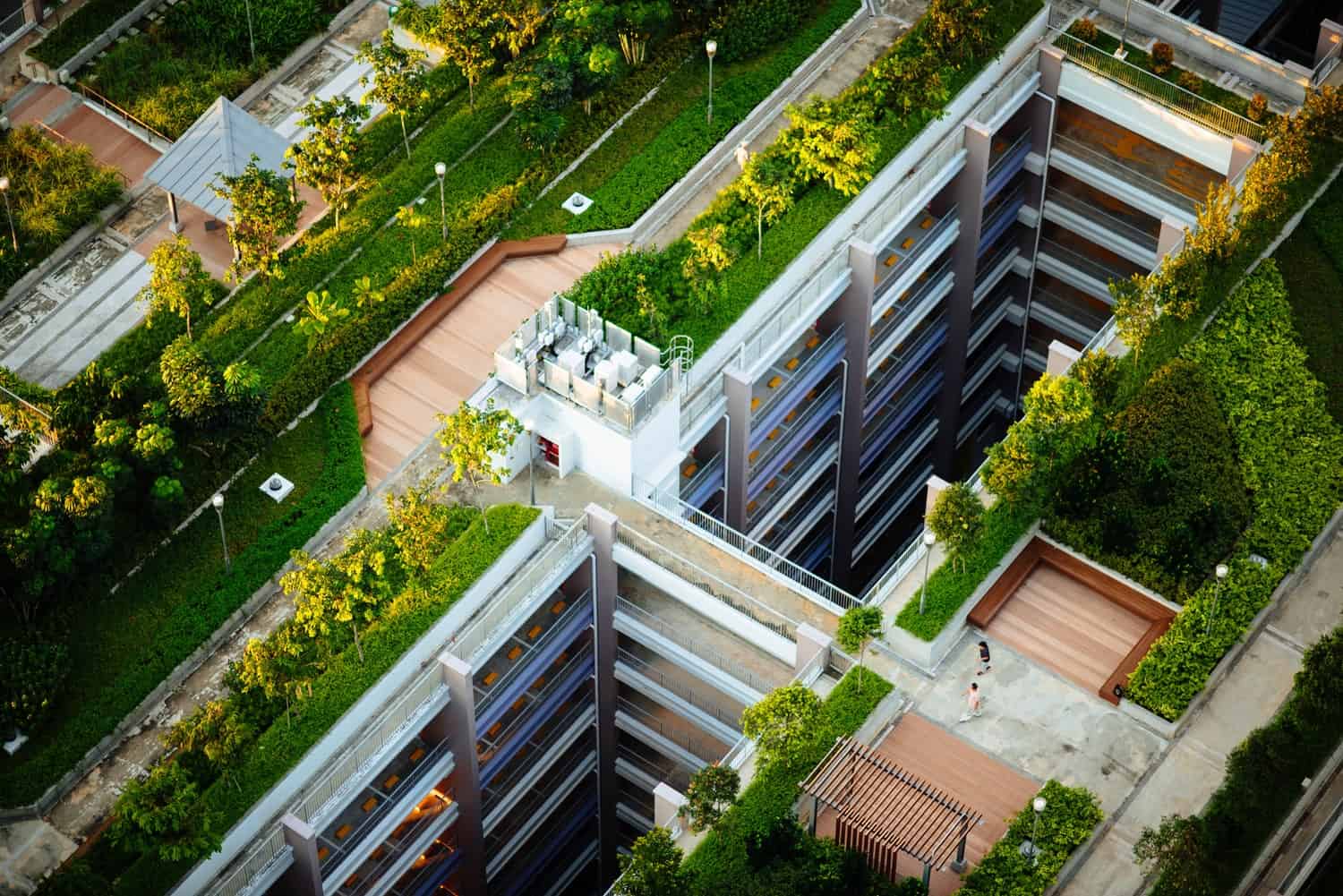 This can include rooftop gardens, the planting of more trees around the city, and a commitment to urban planning. Image by Chuttersnap.
Urban centres are the world's biggest users of fossil fuels and resources. Finding ways to offset this usage is crucial, and means cities should be at the forefront of sustainability and environmental protection measures.
At Vonder, we appreciate the need for green spaces- our co-living complexes include rooftop terraces, as well as carefully planned ground floor communal gardens, for all of our residents. A new approach to housing needs to take into account the needs of urban residents, and their need for connection to the natural world, in a way that also prioritizes sustainability.