Check our our co-living options and maybe we'll change your mind including the benefits of a shared apartment in London.
There can be many challenges to flat sharing, both as a student or adult. However we believe there are a few benefits to flat sharing that are worth exploring (especially flat sharing in evolved co-living complexes) and we have some of those for you here:
Affordability
Sharing a house or flat often means you get to live somewhere nicer, more spacious and in a better location than if you are renting alone.
Friendships
A lot of the time flatmates end up being some of the best friends we make, and like a second family. There is always someone to talk to, to sit and chill and watch a movie with, always someone ready for a drink after a really tough day.
When it comes to finding the best shared apartment in London, co-living or as we like to call it, evolved co-living, might be the best fit for you and all of the benefits it brings. And co-living, and all of its benefits, might solve the usual problems that come with flat sharing and make it a more attractive possibility after all.
How do co-living options make flat sharing a more viable option when it comes to living in London?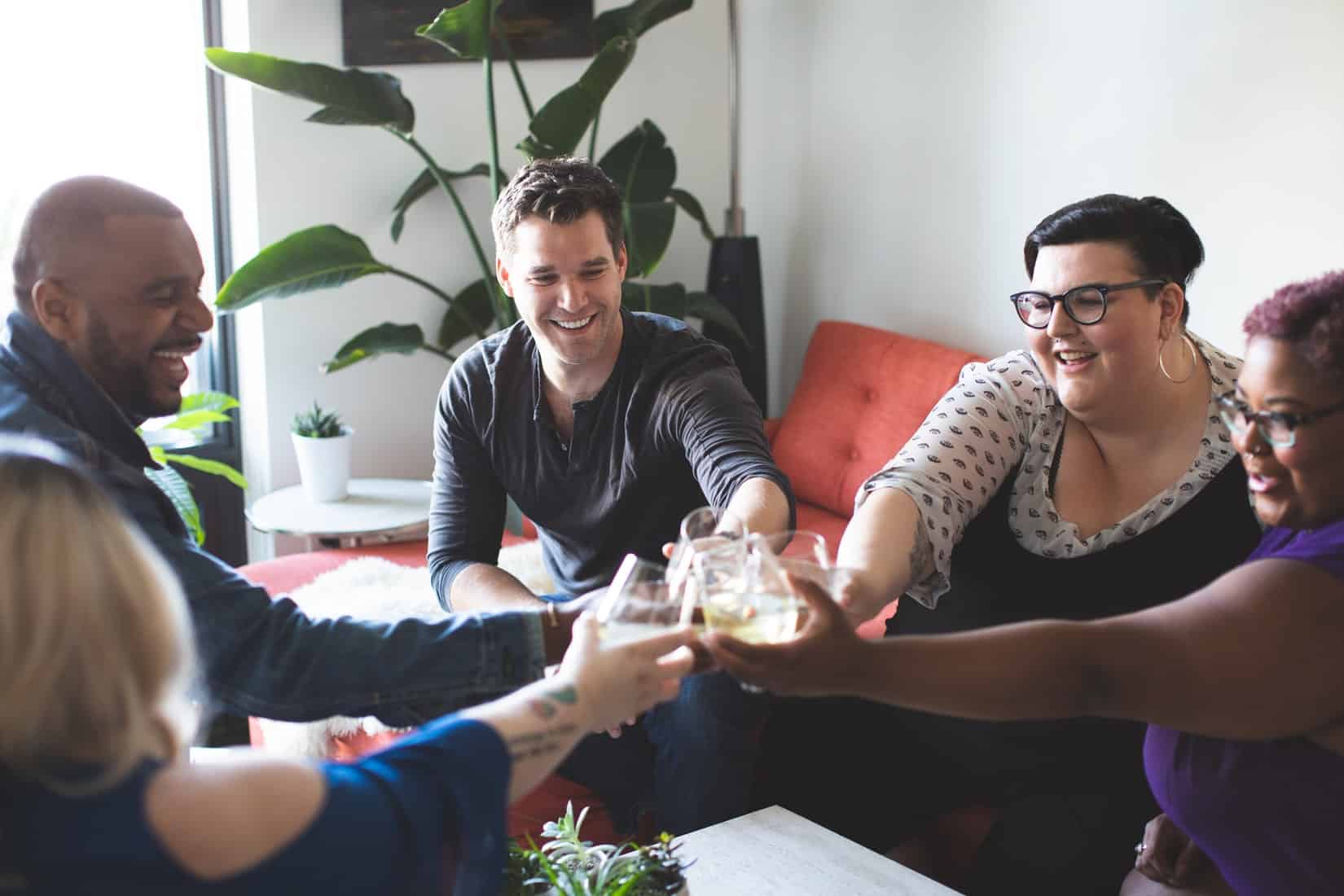 A lot of the time flatmates end up being some of the best friends. Image by Allgo.
Flat types
Two beds, three beds: share with as many roommates as you are comfortable with. All of our flats are spacious and made for quality living. Some also come with a great view and access to a rooftop, allowing plenty of space for when you just need time alone, or conversely if you want to invite more people over. Balance privacy and socialising even with flatmates with our mix of private and community spaces.
Move in ready
Fully-furnished spaces, all kitchen appliances and amenities included. Even the bedding on your bed is there. No arguing over who needs to go and buy the cutlery or the sofa. Everything is there, and beautifully designed.
Our Vonder Shoreditch Location in London.
Hassle-free
Much of the conflict around flat sharing comes with bill splitting, and bill management. Who is going to deal with the bills and making sure everyone is paying their share. Our rents include bills and Wi-Fi, there is no conflict when there are no bills to pay. The Wi-Fi is also our problem, you just need to connect and enjoy it.
Place to work
Sharing a flat and working from home- sounds like a disaster. And for sure, it often is. Our co-living complexes all include fully-equipped co-working spaces, meaning there is always somewhere to work if you need, and without the travel to a separate working space.
Community
Even if your flatmates are not the perfect fit, our co-living complexes provide some great community spaces, think gym, rooftop, private cinema, and community events, workshops, exercise classes, art and cultural events, that allow you to build a community within your home, but maybe not exactly right in it. Sometimes flatmates are the right fit when it comes to living together, but real friendships require something more. Explore so many different types of communities within our co-living spaces.
If despite all this, flat sharing is still not for you? Vonder has some great studio and one bedroom apartments in some great locations across London. Providing all the benefits of co-living London, with the added bonus of a private flat.
*Please note that during this time, all events are held in accordance with the latest Covid-19 regulations as set by the government. Vonder is committed to upholding the safest standards of hygiene, social distancing and to restricting the spread of Covid-19 as much as possible. Keeping our residents safe is our utmost priority at this time.