A new generation of libraries are being designed not only to be better places to enjoy books in, but also to enhance social spaces available in urban centres.
We take a look at a new generation of libraries being designed as new and exciting social spaces in some of the world's biggest cities. Social and community spaces are getting a revamp and for good reason, as neighbourhoods and urban centres are rejuvenated and regenerated in different ways to meet the needs of their residents better.
Stavros Niarchos Foundation Library
Take the Stavros Niarchos Foundation Library by Mecanoo and Beyer Blinder Belle in New York. Their design and intended use for this new library proves that not only are libraries not dead, but they they can be regenerated, and designed to be exciting, social spaces of the future as much as any other. They just need to be designed and built with the present day needs of the community they serve in mind.
This new library was developed within the former Mid-Manhattan Library on Fifth Avenue and currently has over two million resources that visitors can share and enjoy within its four walls. The main idea was to create more space, not only for more books and resources, but also to create more space, more seats and more shelves for visitors. The vibe of the design and interior was always intended to be neo-classical and there was a huge emphasis on the use of natural stone, terrazzo and oak to get the atmosphere just right. The development of the 7th floor of the building led to the creation of a new conference and event centre. It also includes an L-shaped roof terrace and this is currently the only publicly accessible (and free) rooftop in Manhattan. It includes a garden and café in order to broaden the way in which the library can be used to promote connection and social networks.
The library was developed in the spirit of a new approach to community space development - one which understands that urban social spaces have many different purposes, and must be designed to reflect this. How a community interacts is changing, and how communal spaces are designed and built must reflect this shift. A library is no longer a library, it also holds the potential to bring a community together in many different ways.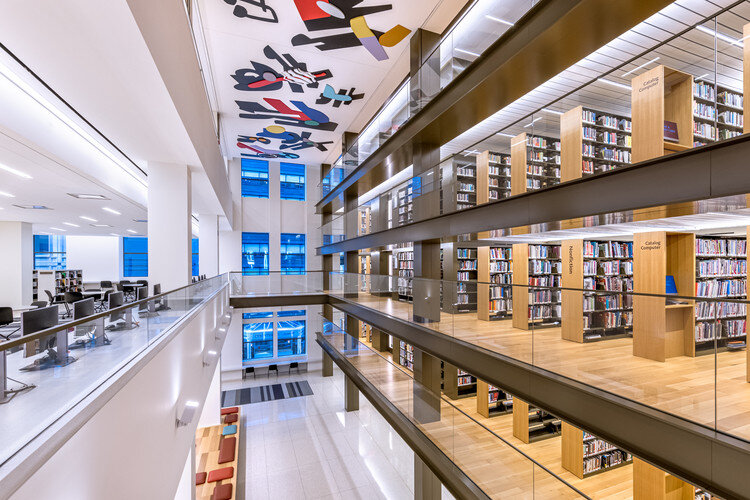 Stavros Niarchos Foundation Library. Image by Max Touhey.
Tainan Public Library
And this new generation of libraries can be found all over the world. In the Taiwanese city of Tainan Mecanoo and Mayu Architects have designed a new 37,000 sq-m library as an homage to the local culture around it. Its design and use aims to reflect the local culture and community around it.
The Tainan Public Library is currently home to over a million books plus its vast multimedia resources collection. This library is especially unique in that it encourages visitors to make full use of both its indoor and outdoor spaces, creating a community space that is more than just a library. This mixed-use development is also capable of hosting concerts, exhibitions and lectures from its outdoor patios. The library is also home to a media library, Braille library, art gallery and bookshop. The building also includes four roof gardens where visitors can sit and enjoy resources and books from the library or even choose to work from there too. The inside of the library has been designed to appeal to those visiting it, and to create an environment that encourages user engagement and interaction with resources and spaces.

Tainan Public
Library. Image by Ethan Lee.
New life
Contrary to popular belief - our libraries still have plenty of life left in them. In fact as they evolve into more flexible and multi-use community spaces, they become more relevant than ever before, not just as somewhere to sit and read or study, but as somewhere to be exposed to art and culture, media and more. They become important venues and communal spaces for everyone.
This shift of designing new generation libraries reflects the importance of community within global populations and the development of more mixed-use developments within cities. These integrated spaces aim to bring communities of people together through shared social interaction, which is our goal at Vonder. Within this movement, we believe co-living has an important role in providing great places for people to live, work and play in.