Our favourite winter cocktails are perfect for keeping warm at home.
If there was ever a time when we needed a roundup of the best winter cocktails, this winter is it. It may not be the merry, cheery holiday season we have all come to know and anticipate but that doesn't mean we can't recreate some of that cheer, from the comfort of our own home.
Here are a roundup up of some of our favourite winter cocktails to keep us warm and cozy this winter.
Mulled Wine
This is a winter, Christmas classic and has to be here. It just has to be. Love it or hate it, this seasonal drink is unavoidable this time of the year. Also, a big pot of it simmering in your stove, will conjure up all those happy memories of time spent in Christmas markets in times past. Reminisce while you stir, and drink to a happier time.

Mulled wine. Image by Gaby Dyson.
What you need
100g/4oz light muscovado sugar

1 star anise

1 cinnamon stick

4 cloves

150ml water

1 lemon

2 clementine's (or oranges, mandarins)

150ml Cointreau

750ml/ 1¼pint bottle light red wine (ask your local wine shop for their suggestion)

Twist of orange zest (or whatever citrus fruit your prefer, or have at home)
Putting it together
Melt the sugar into the red wine, over a medium heat. One by one add each of the different ingredients, keep stirring. Bring it to the boil and then you have two options: take it off the heat and pour into the jug to go into the fridge leaving you with a mulled wine cocktail; or keep the wine on the heat, reducing and raising it to heat the wine as needed.
We would recommend tasting the wine, of course, as you heat it.
Life Hack: many retailers and supermarkets now sell mulled wine ready in a bottle. You just pour it into a pan and heat it up. This is a super quick way to make mulled wine at home this year.
Hot Toddy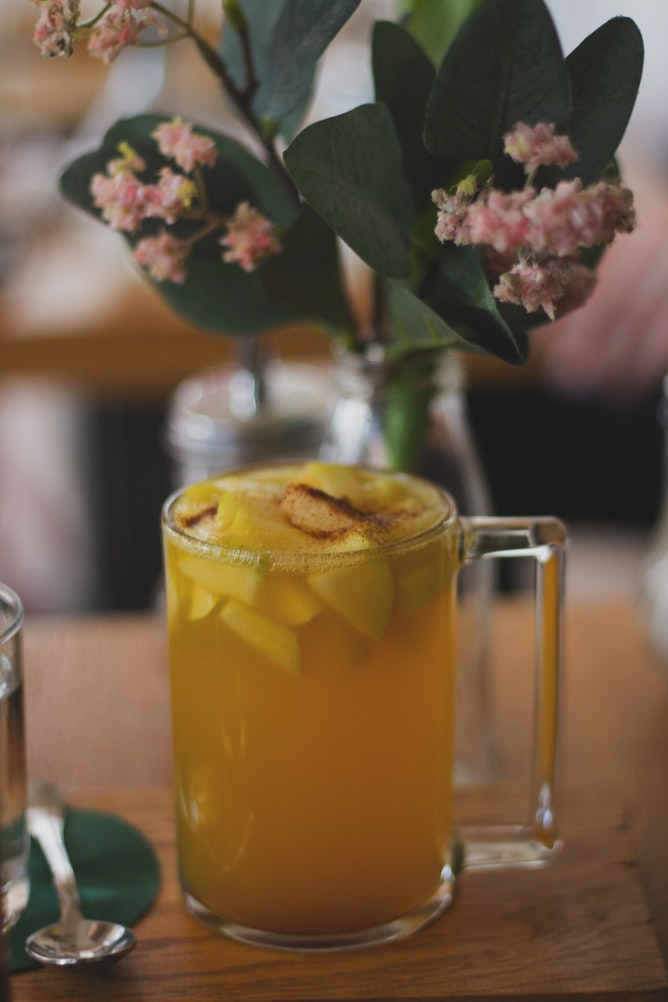 Hot toddy. Image by Anita Jankovic..
This is another classic winter adults only drink. There are so many variations on this classic drink but we have opted to share one of the easiest ways to make it, leaving you more time to drink it.
What you need
50ml whisky

3 tsp honey

1 cinnamon stick , snapped in half

1 lemon , half juiced and half sliced

2 cloves
Putting it together
The ingredients are enough to make at least two cocktails. So you can either combine everything together: whisk the honey and whiskey together, then top up with boiling water. Then add the cinnamon stick, lemon and cloves.
Or divide the ingredients in two and make in two glasses.
For larger quantities simply increase the ingredient quantities.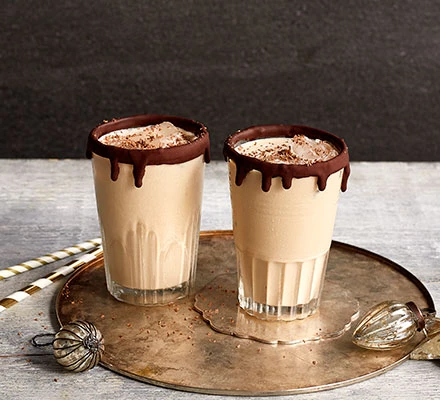 Mudslide. Image sourced from the BBC.
This winter cocktail is part cocktail, part dessert and is reserved for the chocolate lovers. Think alcoholic milkshake meets chocolate bar, and what you have is this creamy delight of a drink.
What you need
60ml coffee-flavoured liqueur

60ml vodka

60ml Irish cream liqueur

100ml double cream

Ice
Putting it together
A cocktail shaker makes putting everything together much easier for this drink, but if you don't have one, and your neighbour doesn't have one, the no one on the floor above or below has one- so you can also just mix everything together in a jug or glass and make sure it is stirred super well.
Add the ice first, then the rest of the ingredients. Shake them really really well. Pour through a strainer into a glass. Serve with a flake on top, for that extra extravagant touch. If it needs a straw, go with reusable every time!
This festive season doesn't have to be all doom and gloom. Whip up one of our winter cocktails, schedule an online call with friends, and get celebrating.
The great thing about our Vonder co-living flats is that they come with their own private kitchens, for cocktail making and more. They also come with fully stocked kitchens, in terms of amenities. Maybe not a cocktail shaker, but a lot to get started with when it comes to cocktail making with. All of our flats across our co-living London, co-living Berlin and co-living Warsaw complexes have kitchens for cocktail making.