Put those screens away- we have some interesting and fun activities to try at home, all of which involve zero screen time.
We all know we spend way too much time on our screens: be it on our laptops, our phones or in front of the TV. And that's not all bad. But sometimes we all need a little screen time break, and having some activities ready to go at home, can make that break both more rewarding and enjoyable.
Cook something you never cooked before
This doesn't mean you need to suddenly start whipping up a Michelin starred dish from your own kitchen. Whether you are already a star in the kitchen, or much more culinary challenged the key is to try something you never tried to make before.
For really simple at home recipes we love anything from the Good Food site. Put in a dish, an ingredient and they will generate a recipe for you. So you could go with something made from what you currently have stocked at home. From baked goods to meals that can be ready in minutes, there is a lot here to keep you busy cooking all day.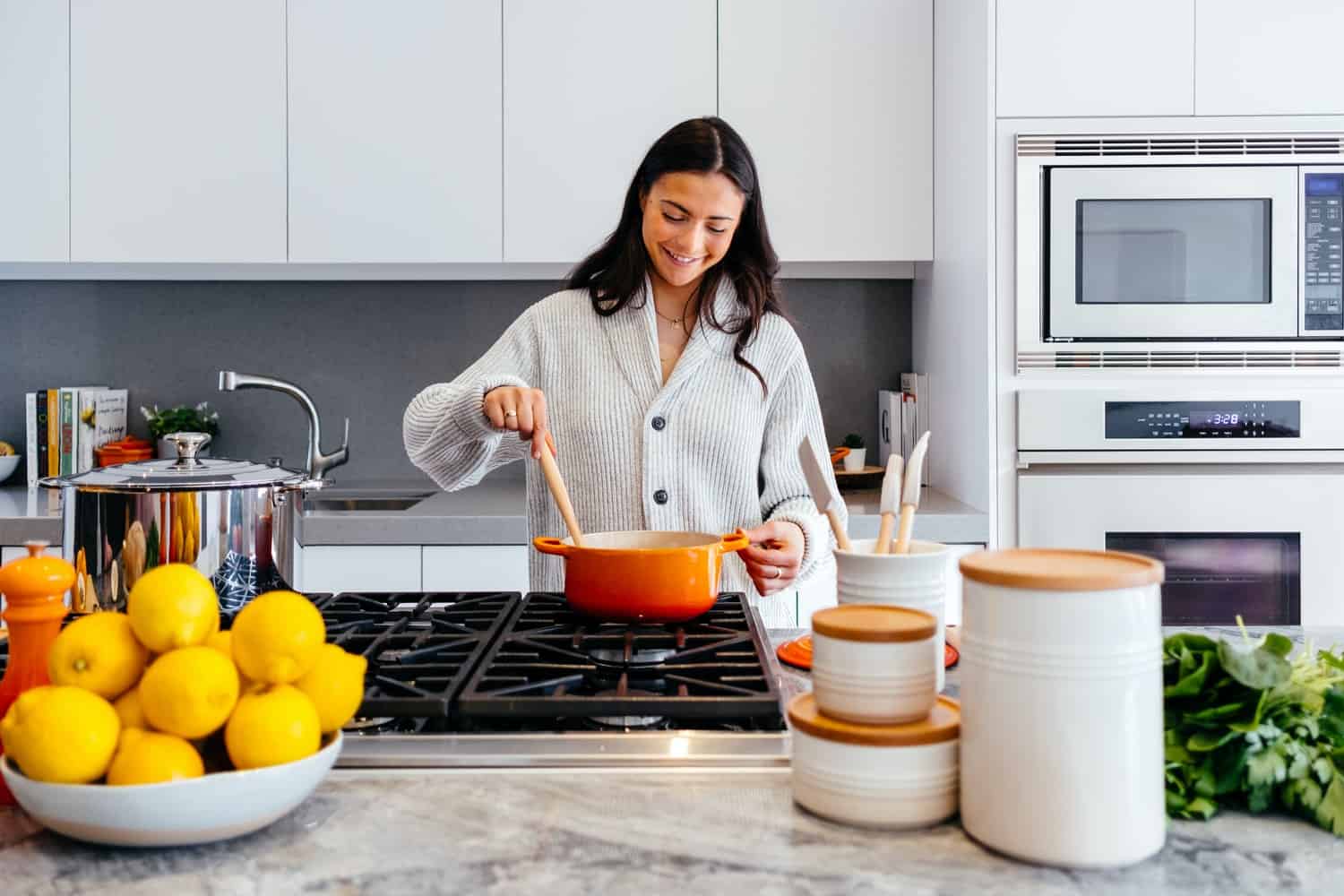 Cooking involves zero screen time! Image by Jason Briscoe.
Enjoy a good book
Many of us would struggle trying to remember the last time we sat down and read a book from cover to cover. And no, a downloaded one doesn't count. Spend a morning engrossed in a good book and remember what it was to turn the pages, and to get lost in another world.
There were some great books published in 2020, here are just a few of our favourites.
Margaret Attwood has to be one of our favourite authors of all time. And her new poetry collection was the shining light amongst all of the doom and gloom of this year. 'Dearly' is classic Atwood writing and enjoying her poems with their humour, depth, and imagination are the perfect escape for current times.
Short stories are perfect as a literary escape, without the time commitment a novel demands. For this we recommend Danielle Evan's 'The Office of Historical Corrections.' Lose yourself in these poignant stories that focus on race, grief and love.

Spend some time reading! Image sourced from Thought Catalog
.
Focus on self care
The definition of self care is different for each and every one of us but we have put together some of our favourites, all of which can be enjoyed at home.
Enjoy a really good bottle of wine. We all have our favourites- red, white, rose or something with bubbles. Better yet take that glass, or the whole bottle, up to one of our rooftops to enjoy wine with a view.
Fill up the bath. Apply a face mask. Or just slice some lemon into your water. All of which are small but significant things to improve your mood.
Self care. Image by Maddi Bazzocco.
Learn something new
Something you wanted to spend more time looking into but just didn't have the time to do it? Right now so many learning workshops and courses have moved online, making them perfect to commit to without the commute or issue of having to get there. It is so much easier to commit to something when you don't have to travel to get there and you can do it from the comfort of your own sofa.
Interested in coding but no idea where to start? This is the perfect skill to learn online.
We love the organisation and independent learning of She Codes Workshops, ideal for beginners who are curious to understand more about what coding is, and those looking to start a new career in the field.
Looking for something a little more creative? Check out the online courses at Yodomo Embroidering, sewing and knitting, printmaking, woodwork are just a few examples of the online courses and kits they offer. Get started now and you might even be able to create some of your own holiday gifts this year.
Whether you decide to commit to no screens for a couple of hours, a whole day or even an entire weekend, time spent at home doesn't have to be boring or wasted.

Our Vonder apartments are designed with comfort in mind. They are the perfect place to spend the day at home. They come fully furnished, and are designed to be both ready to move in homes and also spaces where you can imprint yourself on at the same time. They have been designed to be somewhere great to live as a redefining of co-living and housing options in international cities across Europe. So whether you become a part of our co-living London, co-living Berlin or co-living Warsaw communities, our flats are ideal for