This year has seen unprecedented changes in how and where we all work.
It has been a year in which millions of people have transitioned from working in permanent offices, to working at home. Understand more about what that means for the future of our office spaces.
This has prompted a lot of debate about the future of offices, and the future of how and where we all work. For many working from home has been a positive experience, allowing them to eliminate a daily commute and rigid working hours, for something more flexible and comfortable.
For others, juggling childcare while working from home, as well as virtual meetings and working with colleagues remotely, has created its own set of challenges and difficulties.
It has been a year in which how and where we work has had to change and adapt quickly, and some businesses and organisations have been able to respond to these changes more quickly than others.
The future may not mean a complete end to permanent office spaces. In fact what it is likely to involve is a combination of working remotely, with working in a more traditional office environment. There is also likely to be more demand for shared working spaces, or working spaces within living complexes that allow professionals to juggle working at home with the need for a dedicated, external working space and other community facilities.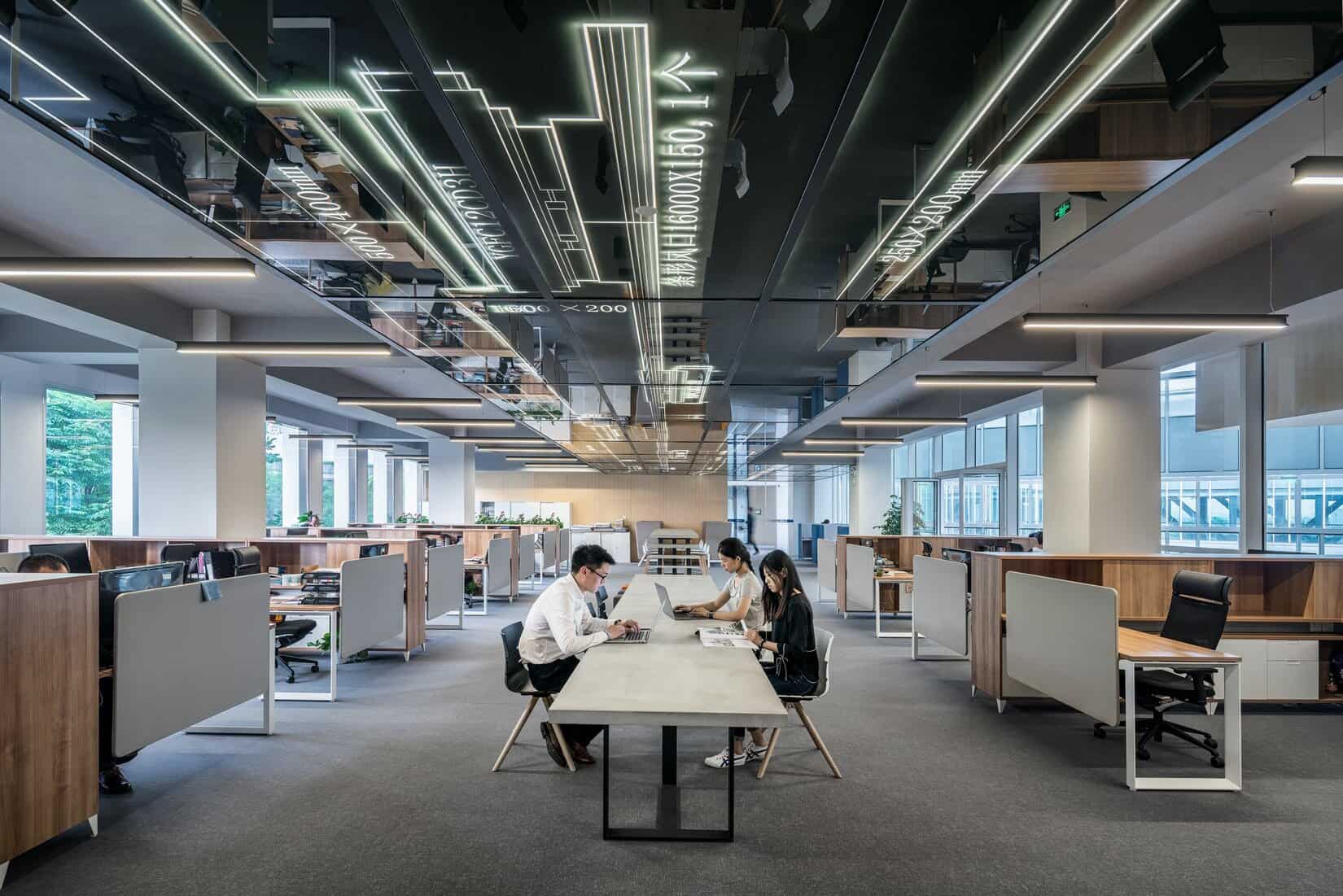 The future may not mean a complete end to permanent office spaces. Image by LYCS architecture.
What it might also mean is a new approach to designing office spaces. One example of this is the new, 46,000 square feet, Microsoft working complex in Herzliya, Israel which is proving that the office might not have died just yet. In fact, its reinvention might just be its revival and its future.
How has the new Microsoft working complex been designed for a more adaptable working environment?
A Flexible Grid
What does this mean? It means Microsoft employees have the freedom to arrange their desks and office space including shelves and dividers, however they want. It is all moveable. You can move closer to colleagues, or further away according to how you need to work, or in line with social distancing recommendations. One of the biggest benefits of working from home is being able to design your working space, exactly how you want it according to how you work best. The new Microsoft offices make this possible too.
Environment & Sustainability First
Working from home is, for the most part, good for the environment. Doing away with daily commutes reduces traffic and air pollution caused by that traffic. It also means energy consumption is down as offices sit idle. We consume much less energy working from home, than a large office complex or building does. The new Microsoft complex has also been designed to put sustainability first. They will take 237,000 litres of fresh water from the air each year using atmospheric generators which will then be used by an internal filtration system to cool the building at the same time. The potential for water saving is huge. Their commitment to sustainability goes even further with the building powered in part by 800 square metres of photovoltaic cells.
More Than Just Work
The new Microsoft offices are also more about just a place to work. It also recognizes the importance of working spaces that allow people to relax and socialize and include a music room, yoga room, gym and prayer rooms. The space also includes children's playrooms, in recognition of the need for childcare and child friendly spaces for employees with families. Helping families juggle work and childcare, especially at times when school and caregiving facilities are closed, is a major consideration for organizations moving forward.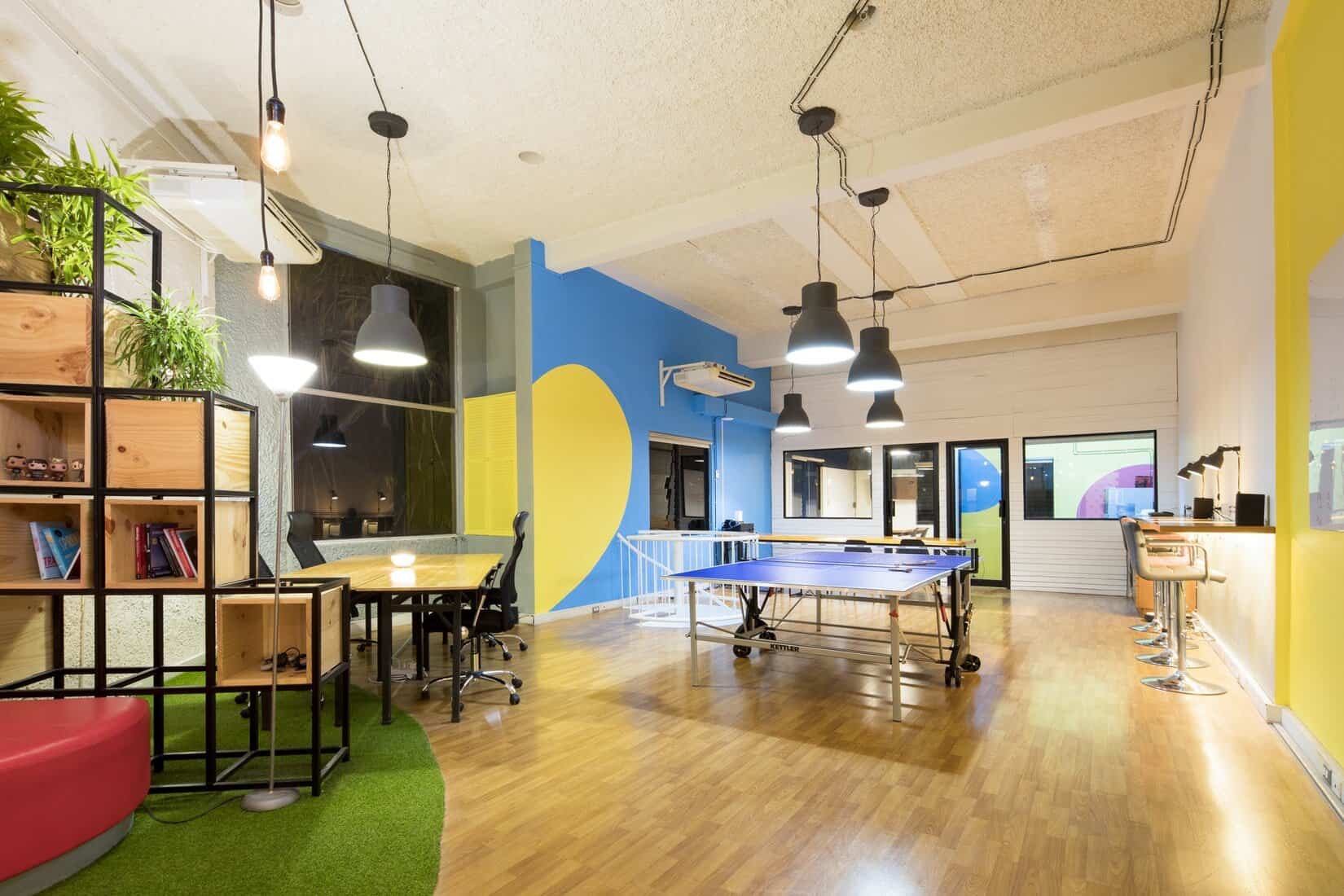 Social spaces in the office. Image by Slidebean.
This year has triggered many changes in how and where we all work. For some, working from home and working remotely will be the new normal. For others, a return to an office might mean a reinvention of what that office looks like, how it operates, and how it impacts on how we work.
But what is important is that we recognise that a traditional office might no longer be the best fit. Employees want some degree of control over how they organise their working space, and how they work with others. They are excited by working spaces that also incorporate other facilities, that enable them to create a better life-work balance. They also want flexibility in how and where they work.
Vonder is committed to the design, development and running of combined living and working spaces that include some great shared, communal spaces too. Our evolved approach to co-living in London, Berlin and Warsaw is redefining how people work, live and play in an ever changing world.