From parks, to forests, to open air terraces there are no shortage of great places to picnic in London in the summer.
The Great Outdoors
Time spent outdoors is good for us. Time spent in nature is good for us. Fortunately for London residents, the city is filled with green spaces that are fairly accessible to everyone. With around 47% of Greater London being classed as 'green', finding that perfect picnic spot shouldn't be too much of a challenge regardless of where in London you call home.
Green spaces and natural environments boost our sense of wellbeing, our overall mental health and also contribute to our physical health by encouraging us to get moving more. Time spent in nature is also proven to encourage social interactions and to help us with relationship building. Throw in a picnic, and you have what amounts to a very powerful and impactful social event, plus plenty of great food and drink.
There is no better excuse to spend more time outdoors than with a picnic, or two.
Picnics - a brief history
Picnics have been around for hundreds of years, with the word "picnic" first making an appearance in 1649, coming from the combination of two French words. It's thought that the word is a combination of the verb picquer meaning "to pick" and the noun nique meaning "small" or "hardly anything".
The tradition began with aristocrats hosting picnics in which it was customary to bring a small dish to an outdoor gathering. This tradition was largely based in France and this didn't change until the arrival of the French Revolution when rich aristocrats fled the country, taking their picnicking traditions (amongst others) with them.
London's first first picnic club was founded in 1801 in Tottenham Street. Every member was required to bring a dish of food to share and six bottles of wine! Since then, picnics have only grown in popularity with UK residents enjoying, on average, three picnics each a year. This amounts to over 180 million picnics a year. That's a lot of prosecco and charcuterie boards.
Picnic Essentials
There is no food like picnic food. From the humble cheese sandwich, to a traditional scotch egg or pork pie, to the many, many different picnic foods we now all enjoy - there is something about eating outdoors on a blanket that makes everything taste better.
Packing for a picnic? Apart from the requisite food and drink we also recommend packing something to sit on, sun cream, and insect repellent. With London's weather in mind we would also recommend an umbrella in case of a sudden shower or two.
It is easy to make sure your picnic is eco friendly - forego disposable cutlery and plates for reusable ones. Plenty of places do some great reusable, plastic sets that you can use for picnics throughout the year. Remember to tidy up after your picnic, and all rubbish should be cleared and disposed of properly. Make sure where you are picnicking is open to the public and not private property (unless it's your property).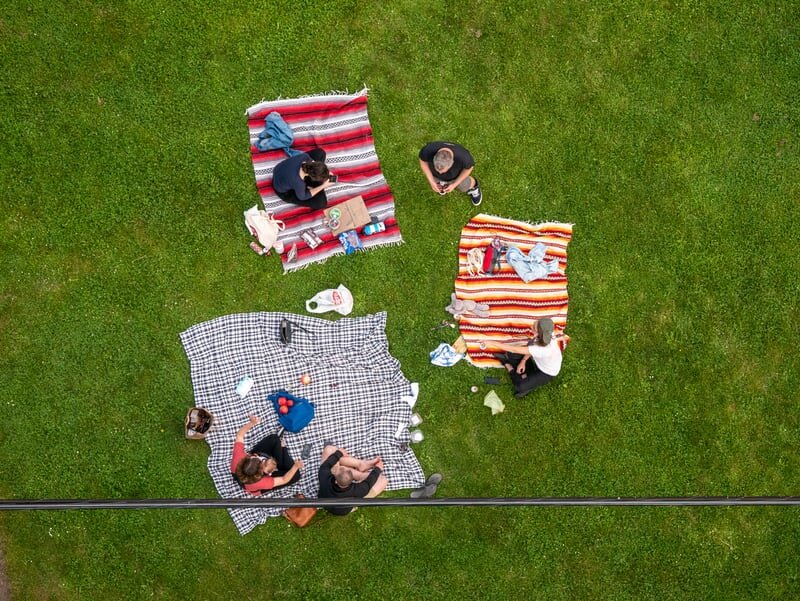 Our favourite picnic spots
Hyde Park
Perhaps the city's most well-known park, this large park was originally developed for King Henry VIII to pursue his love of hunting in. There are numerous great picnic spots in this park - you can choose to picnic amongst the roses of the Rose Garden or take a spot by the water. The park also has places to buy snacks and drinks for when and if picnic supplies run low throughout the day.
Victoria Park
Developed in the 19th century to be a place for East Londoners to enjoy the outdoors, this park has plenty of open green space for picnics. Enjoy a picnic by the lake close to sculptures placed in the park during the Cultural Olympiad of 2021. Art and a picnic make this a truly London location.
Hampstead Heath
We love this 800 acre park, mainly for its woodland and meadows. It's easy to feel out of the city, while being right within it. We also love that this park was supposed to have inspired C.S. Lewis to write his series of books set in Narnia. Enjoy a picnic, fly a kite, or take in one of the parks over 30 lakes and ponds. It also helps that this park is circled by plenty of cafes and delis to pick up picnic supplies that require zero preparation. That's picnic prep we can get behind.
London Fields
Apart from its large grassy spaces, London Fields is great for a picnic due to its proximity to Broadway Market and its many food stalls - perfect picnic food ready to be picked up, transported to the park and enjoyed. The park is well shaded by its immense London Plane trees. And if cricket is your thing, there is always a match in play here in the summer to enjoy - just don't forget the Pimm's.
When it comes to finding the perfect picnic spot, London never disappoints. All that's left to do is to cross our fingers for a great, sunny summer. Happy picnicking.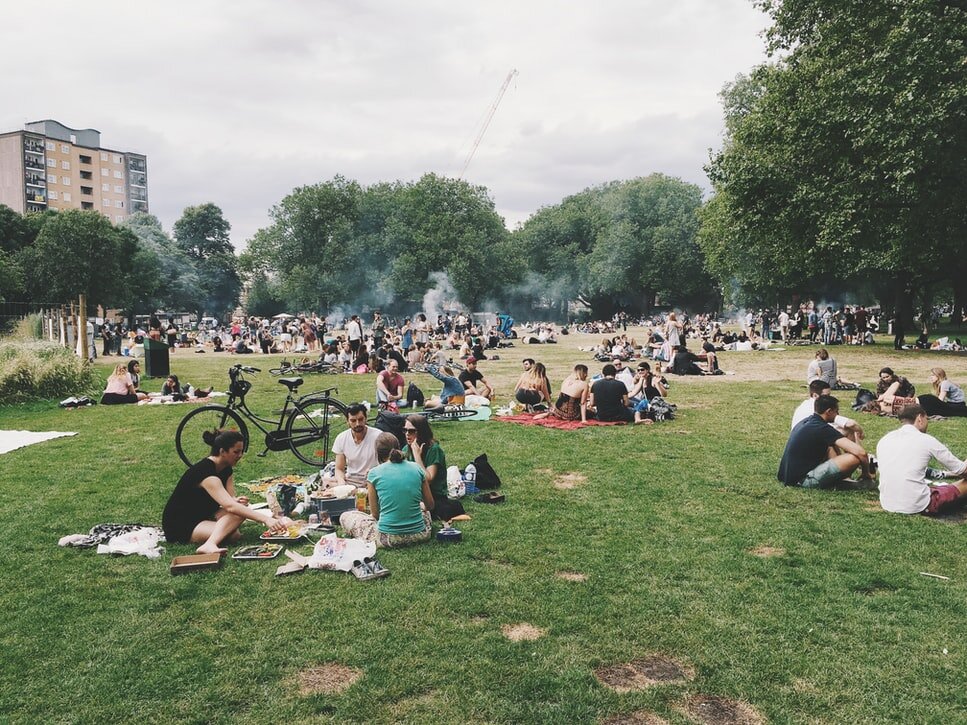 London Fields.
Image by Robert Bye.
At Vonder we are proud to call London home - our co-living in London locations put our residents in the heart of some of London's most exciting and vibrant neighbourhoods, making it easy to enjoy all of London's great spaces - including its best parks for picnics.