Discover the top Easter activities around the world, whether you are part of our all inclusive flats to rent in London, Warsaw, or Berlin.
Easter ushers in springtime, and with it, times of renewal and hope. No wonder people around the world enjoy celebrating this timeless holiday. Read on to find out what the top Easter activities are in your city.
Easter in London
London is bustling with activities during the Easter season. This is even truer this year because it's a rare Double Bank Holiday - which means anyone in this city gets four full days off, from Good Friday on April 15 to Easter Monday on April 18.
Trafalgar Square's Reenactment of the Crucifixion, April 15 (Good Friday): Wintershall Players will be putting on a huge performance of 'The Passion of Jesus', featuring a cast of more than 100 and horses, donkeys, and doves. Having been cancelled for the last 2 years, Londoners are especially excited this year for this epic performance. Because crowds tend to get big, there will be screens to ensure nobody misses a moment of the reenactment.
Top Cuvée's Easter Egg Hunt, April 17 (Easter Sunday): If you are in search of a unique take on the classic Easter egg hunt, you're in luck: Top Cuvée, a Highbury wine bar and shop, will be hosting their own hunt in Clissold Park on April 17 (Easter Sunday). Participants will roam the park in search of 'eggs', which are actually QR codes offering rewards such as free wine, chocolate, vouchers, stickers, tote bags and discounts, and the main prize of a three-month wine subscription. The number of teams is limited to 300 and you have to register to get involved, so sign up here if this egg hunt is for you.
Regent's Park London Easter 10K, April 18 (Easter Monday): This run gives you the perfect opportunity to burn off all the Easter chocolate you've been consuming over the last four days. You can also dress up and participate in a race for Easter goodies in a family-friendly Adult Fun Run.
Easter in Warsaw
You will notice that Warsaw gets quiet over the four-day weekend, with shops and restaurants closing down to properly take in the spirituality of the day. That being said, there is still a lot to see during Easter in Poland. Featuring spiritual and fun traditions, you are sure to take away something new from your experience in Warsaw.
Central Way of the Cross, April 15 (Good Friday): Starting at St. Anne's Church and following the Royal Route in Warsaw, sing Lent's songs as you walk down the main promenade of Warsaw. Attended by several thousand people, the procession stops at places associated with Pope John Paul II. There, you can listen to his words being read by students from the Theatre Academy. A cross weighing over 100 kg is carried alternately by people from different professions, including firefighters, soldiers, artists, lawyers, and students.
Easter Market: Meet crowds of locals and tourists celebrating Easter at this Polish Easter Market. Located on Florianska Street in the Mazovia region, this market offers Easter goodies and a look at how people celebrate the holiday.
Royal Łazienki Park: What better time than the spring to visit Warsaw's beautiful parks? As the name of the park suggests, this park contains within it the summer residence of the last king of Poland, called Stanisław August Poniatowski. Today, it is a museum featuring paintings from the royal collections. On top of that, you will also see an orangery, an amphitheatre, a court theatre, the Museum of Hunting and Horse-riding, the Myślewicki Palace, and many free-standing sculptures. This vast park is especially worth visiting now because thousands of tulips bloom here in April.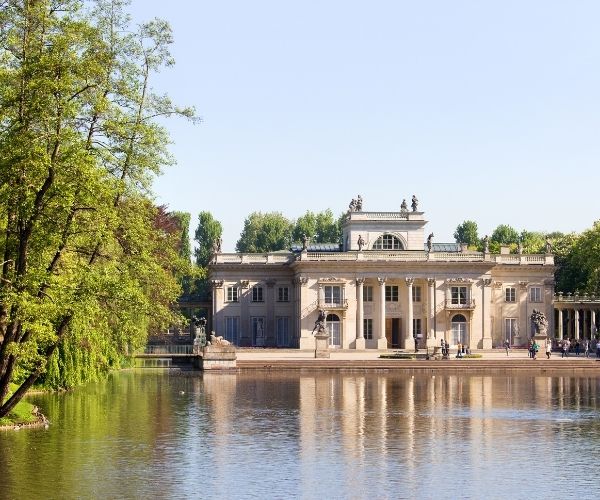 Easter in Berlin
Berlin's events for Easter are all unique and bring you into the spirit of the holiday the way no other city could. Here are just a few of their top Easter activities:
Mediaeval Fair: Easter Knight Spectaculum in Spandau Citadel, April 16-18 (Easter Saturday to Easter Monday): This mediaeval fair features an extensive entertainment programme from 10 am until 8 pm over two days, with theatre and acrobatics for everyone. It promises to be an exciting experience, with a historical market, knight tournaments, a fire show on horseback, a fakir show, and more. This traditional Easter Knight Spectaculum will also feature historical live music shows and knight fights on the ground and horseback. And if you come in full knight armour, you even get free admission!
Britzer Garten Easter Bonfire, April 16 (Easter Saturday): What is Easter without a traditional bonfire? Starting at 6 PM, the bonfire allows you to celebrate the holiday with friends. On top of that, the band Simply Rednecks will be reviving the greatest hits of the 60s, 70s, 80s, and 90s live.
Horse Racing at the Hoppegarten Racecourse, April 17 (Easter Sunday): Grand Prix horses will be the focus of the three anticipated horse races taking place on Easter Sunday at 10:30. The Röttgen Stud Prize, the Dahlwitz Prize, and the Altano Race all promise to be exciting and eventful for fans of horse racing.
Now that you have a taste of what each Vonder city has to offer on Easter, learn more about our co-living options. From incredible on-site amenities to engaging community events, we offer you a home and a family in one. Join in the lively Easter celebrations around the world, whether you are part of our all inclusive flats to rent in London, Leeds, Dubai, Warsaw, Berlin, or Munich!