What is all in one living? Well, the key as is often the case, is in the name. All in one living is an approach to living that brings together everything an urban resident might need to live their life, within one building or development.
So this means great places to live, even better if they are spacious and beautifully designed. But it also means housing complexes with great amenities, facilities and community spaces - both for the benefit of the individual user but also for community building exercises and events as well, be they organised or organic.
And actually when we talk about all in one living, we are actually talking about an approach to living, working and playing that goes beyond just great apartments and in-house facilities. We are basically talking about a housing platform that provides everything - not just the WIFI, and the all -inclusive, one monthly bill but services too, from your mobile connection and provider, to insurance and mobility solutions too. Basically anything you need in your life to make it work, even in the day to day, is provided through an all in one living solution.
What do we think are the main features of all in one living?
Quality apartments - fully stocked with appliances and fully-furnished. Urban residents today want flexibility, hassle-free living and nothing provides that better than a fully-furnished living space.
Amazing community spaces - from gyms, to private cinemas, to rooftop terraces and co-working spaces, all in one living provides a variety of spaces for people to socialise and play. They are designed for individual users, but they are also designed to be spaces to bring people together, organically or through planned and organized activities. The end result is designed to be community, the spaces being another way to bring this about.
Stellar service - all in one living promises fantastic service, regardless of which location or even city you find yourself in. This means basics such as smooth, contactless check-in where necessary. It means swift assistance with maintenance issues. It also means Community Managers who are there to help their residents access all parts of an all in one living service. Need a new mobile provider? All in one living should be able to source that. Looking for home insurance? Expect it to be already included. From concierge services to advice on urban living, all in one living providers should deliver it all and deliver it well.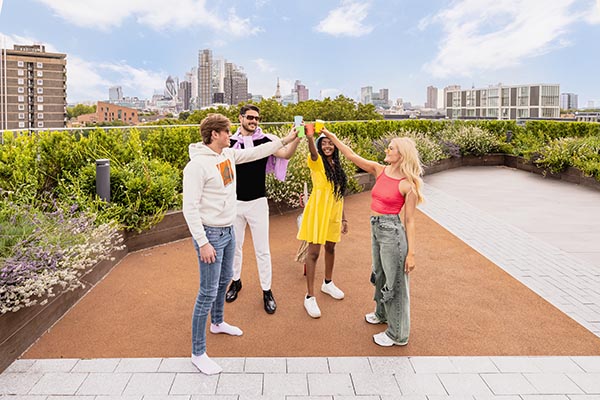 The need for all in one living
The concept itself is proving popular amongst millennials, specifically those aged between 25 and 40. Why? They are marrying later, starting families later, buying houses in lower numbers. They are also, as a generation of renters, tired of difficult landlords, and inadequate living spaces. They want quality living spaces, even if they are or the housing market are not in a place where they can buy their own home.
They are a generation comfortable with remote work, and one pushed into it increasingly during Covid-19, and as a result they are looking for unique ways to live that suit their lifestyles better. For many this means living, working and places for play within the same building or development.
As a generation battered by economic downturns and a rapidly changing society, they are also looking to rebuild community at the centre of their lives. Through professional communities for collaboration and innovation, to personal communities, and those for education and broadening the mind - community is at the forefront of how millennials want to live their lives.
They are also a generation unafraid of global connection and movement - being able to move from city to city, country to country, is a consideration in many of their living choices. As global citizens, they demand an approach to living that recognizes and embraces this.
All in one living however is not just all about the residents. In fact it is much more than that and requires a commitment from the housing developer and management to higher values and principles than have been demanded from developers before. There is an expectation that as landlords, all in one living developers and management, will be as invested in building a community as the residents are. They will go out of their way to make this happen, with a vision of their tenants as much more than just, well, tenants but as members of a community that lives, works and plays together. They are also expected to provide consistent, excellent service that follows residents between cities and countries.
Renters are demanding more for their money, and for good reason. Their need for quality living spaces and community is as real as anyone else's. Urban residents and renters are at the forefront of making this happen.
At Vonder we are at the vanguard of the all in one living movement. Our global properties are designed and managed to create and foster vibrant, dynamic and international communities that prioritize connection. Our commitment to amazing service can not be beat, and we aim to guide our residents through every part of their lives.